I grew up in a bay side suburb of Melbourne, Victoria, Australia and as long as I can remember I have possessed a great fondness for Istanbul and Turkey. Always proud knowing that my Mother Kathleen Dorothy Arnold was born in Haydarpasa [Haidar Pasha] on 20 May 1915 and my Grandfather, Cyril Henry Arnold and Great Grandfather, Edward Thomas Arnold were also born in Constantinople [Istanbul].
I understood that the Arnold Family were involved with the English Cemetery at Haydarpasa and that another Great Grandfather, Philip Le Feuvre was a diver who help raise the Russian Fleet at Sevastopol in the Crimea.
My Grandmother Euphemia Jane Roxburgh Glass [aka Phemie] was held in high esteem by the family as in 1906 at the tender age of 18 she had travelled from Scotland to teach at the Church Of Scotland Mission School at Hasskeui [Hasköy], Constantinople [Istanbul]. She had also obtained University qualifications from University of St Andrews, Scotland, a very rare achievement for a woman at that time. We now know that she studied by correspondence to obtained her 'Ladies Literate in Arts' Certificate' in 1908, today this would be considered a Diploma according to the University of St Andrews who still hold the records.
Travel document issued under the seal of the Lord Provost of the City of Edinburgh.
Visits to Istanbul by my Uncle and then later by myself in 1976 were too brief to be able to investigate any history, except for seeing some records held by the British Consular Office in Istanbul. In recent years we have realised that we know very little of the Family's Turkish Story. In fact in hindsight it is clear that while a close family nothing was told and passed down, except for the lighter tales of family and intrigue. The following is what we have been able to piece together in the last few years.
If I am correct my Great Great Grandparents were Henry Arnold, born in Eton, Buckinghamshire, Great Britain in1830 and Charlotte Pusey born in Farnham Royal, Buckinghamshire, Great Britain in1828. They both appear on the British Census for 1841 and 1851 as residents of Chalvey, Buckinghamshire and their occupations given as Labouring Gardener and Dressmaker.
They married in the Sublime Porte [Istanbul] on 15 March 1860 aged 30 and 32.
| | |
| --- | --- |
| Henry Arnold | Emily, Charlotte [Pusey] and Edward Arnold around 1865. |
Two children were born, Emily Jane Arnold and Edward Thomas Arnold.
Edward was born on 11 March 1861his occupation was we believe as a Clerk/Administrator. He died 5 September 1917 towards the end of WWI and is buried in the Haydarpasa [Haidar Pasha] Cemetery together with his Parents.
This picture of the Arnold Family Grave kindly provided by the Curator of the Haidar Pasha Cemetery, he sent the Head Gardener down to take the picture.
Emily's date of birth is not known; she died in March 1939 at Aspendale, Victoria, Australia aged in her late 70s. Her life was given to the care of her nephews and nieces.
Edward Thomas Arnold [Papa] married Catherine Ellen Le Feuvre [Muma] in Pera [Beyoğlu] on 23 November 1883.
Catherine was undoubtedly born around 1865. The Le Feuvre family were said to be Catholic, from the Island of Jersey and possibly Sponge Divers. Date and place of death unknown, possibly buried in Ismailia, Egypt.
Edward [Papa] and Catherine [Muma] Arnold
Edward and Catherine had the following children, all born in Constantinople [Istanbul].
Cyril Henry Arnold born 20 October 1884, occupation Clerk and died in Camberwell, Victoria, Australia on 6 July 1969.
Raymond James Arnold date of birth unknown, occupation Builder, died in Queensland, Australia in the 1960s.
Valentine Philip Arnold born in 1887, occupation Engineer, died in Melbourne, Victoria, Australia in April 1954.
Three brothers Valentine, Raymond and Cyril Arnold with an unknown friend.
Charlotte Emily Arnold [aka Lottie] born in 1893, died in Chelsea, Victoria, Australia in January 1971.
Louise Mary Arnold [aka Lulu] born in 1897, died around 1974 in Prahran, Victoria, Australia.
Sisters Charlotte and Louise
My maternal Grandparents Cyril Henry Arnold and Euphemia Jane Glass were married on the 8 July 1914 at the Church of Scotland Mission School, Hasskeui [Hasköy]. The Celebrant was the Rev. Robert Frew, Minister of the Evangelical Union Church of Pera [now the Union Church of Istanbul] and Superintendent of the Mission. Two days earlier on the 6 July a Civil Marriage had taken place at the British Legation. By the time of their marriage most of Phemie's family had emigrated from Scotland to harsh conditions of Cherhill, Alberta, Canada to claim free land for farming.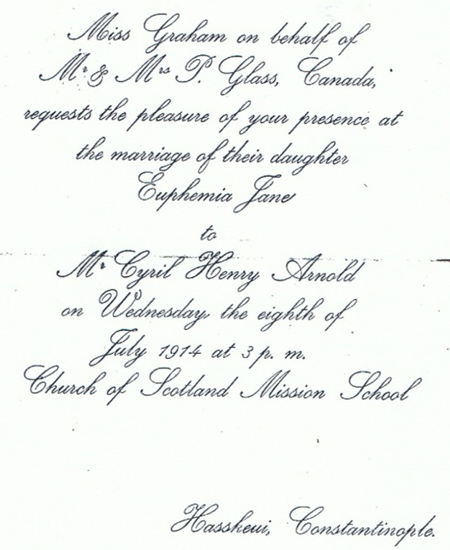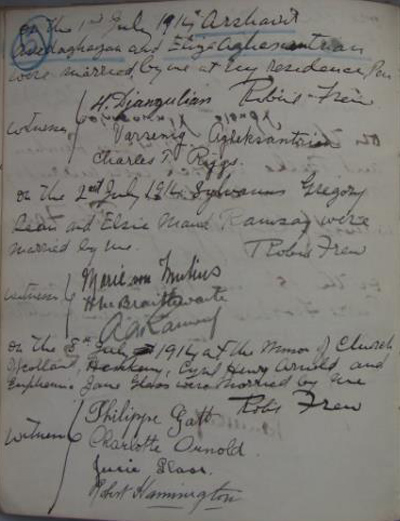 Above is a copy of the Rev. Robert Frew's record of the marriage of Cyril Henry Arnold and Euphemia Jane Glass. The witnesses were Philippe Gatt [possibly a family relative and boat builder], Charlotte Arnold [younger sister of the groom], Jessie Glass [younger sister of the bride] and the Rev. Dr. Robert Hannington a long term resident of Istanbul [1883 – around 1920], Doctor to the Jewish Mission and Minister of the Union Church of Istanbul on a three occasions. This copy of the record was kindly provided by Elaine van Rensburg of the Union Church of Istanbul.
Robert Frew was minister to the Union Church from January 1902 to January 1924. He ministered in difficult times, he was not allowed to live in Constantinople [Istanbul] for much of WW I, but visited to conduct the church affairs, frequently performing marriages, baptism etc. It was probably at this time that he was named as honorary chaplain to the Netherlands Legation, which gave him legal standing and tax exemption. The Union Church of Istanbul is located in the Dutch Chapel within the walls of the Dutch Consulate General.
Robert not only gave spiritual assistance, but he also worked to look after the welfare of the many Westerners remaining in Constantinople [Istanbul] and the City's citizens in the cholera camps. He was commended for his work which was often carried out with great courage and at great personal risk.
Cyril and Phemie 8 July 1914
Euphemia Jane Glass [aka Phemie] was born 13 Apr 1888 in Rosebank Mains, Dunfermline, Fife, Scotland to a Farming Family. She had received a good education and was an accomplished pianist, singer and academically bright.
Cyril and Phemie had the following children born in Turkey.
Kathleen Dorothy Arnold born 20 May 1915 in Haydarpasa [Haidar Pasha], died in McCrae, Victoria, Australia on 9 January 2000. Her occupation was as a Dress Cutter/Maker.
Ian Graham Le Feuvre Arnold born on17 September 1919 possibly in Hasskeui, died in Sale, Victoria, Australia on 25 August 1976. Ian's occupation was as a Livestock Buyer/Agent.
Picture of Phemie, Cyril, Ian and Kathleen taken to celebrate Cyril and Phemie's 8th wedding anniversary in 1922
Two further children were born in Melbourne, Australia.
William Edward Arnold born 17 January 1930, his occupations included Opera Performer / Retail Administrator / Picture Framing Gallery owner
Elizabeth Emily Arnold [aka Betty] born 2 May 1931, died 27 November 1967.
My grandmother Euphemia Jane Glass taught at the Church of Scotland Mission School, Hasskeui [Hasköy], Pera [Beyoğlu], which was a mission to the Jewish community. The School's Head Mistress was Miss Isabel Graham, who was possibly a relative. I think I recall my Mum telling us that during WW II my Dad visited Miss Graham who by then lived in Liverpool, England.
Three School Teachers, Phemie with her sister Jessie Glass and Headmistress Isabella Graham around 1912
The Church of Scotland Mission, Hasskeui [Hasköy]
On the outbreak of war in 1914 the school was taken over by the Turkish Authorities. Along with many non-Turkish nationals Miss Graham and Jessie Glass left for England and Scotland.
The Arnold Family Home, 65 Yasagee Cadessi, possibly located near Hasskeui [Hasköy].
As the Gallipoli campaign raged my Grandma was awaiting the birth of my Mother. Grandma would tell the family that at the time she could hear the noise of artillery and exploding shells in the distance and in the Bosphorus. Mum always said she was born in Haydarpaşa and this was probably thought to be safer at the time than in the Pera [Beyoğlu] district.
During WW I times were difficult. Everything was rationed, and many foreigners had left or were exiled from the city. My Grandfather was placed under house arrest in a village well away from Istanbul. He was free to roam the village during the day but was under strict curfew at night. The villagers liked him and this enabled him to smuggle messages and vegetables back to Phemie and baby daughter Kathleen who remained in Constantinople [Istanbul]. His brothers were not as fortunate; they were imprisoned in Constantinople [Istanbul] and were considered useful whenever the city came under threat of shelling from allied ships or aircraft. They were marched out into the open and shackled together with other alien detainees as a deterrent to the attack.
Following the end of the war the family's position must have been tenuous with little choice but to immigrate. The head of the family Papa Edward Thomas Arnold had died, their possessions had been lost, they would have been without any means of financial support and there would have been little likelihood of obtaining employment.
The first to leave were brothers, Raymond and Valentine their wives and their single Sister Charlotte chaperoned by Maiden Aunt Emily. Charlotte was closely followed by future husband George E Jackson [George was Greek and possibly born in Istanbul, he took an English name while in Turkey]. They decided on Australia and arrived in Melbourne, Victoria in the latter half of 1920 on board the SS Euripides having sailed from Naples, Italy.
Cyril, Phemie and children Kathleen and Ian followed arriving in Australia in April 1924. They were accompanied on the journey aboard the SS Orvieto by Muma Catherine and Sister Louise. Louise was estranged from her first husband an officer by the name of Beck and prior to leaving Turkey had started a relationship with William Harold Francis Sheen.
The family with the exception of Louise and Muma Catherine, who returned to Turkey and then Ismailia, Egypt, settled into life in Australia. It was not easy and times were hard with very little money. Then the Great Depression of 1930.
Why do we know so little about the lives of our forebears in Turkey?
I attribute this to the events leading up to and the trauma suffered during WW I. Then there was the ordeal of relocating to the other side of the World, to a young Nation with a totally new environment and culture. Having to start life all over again, in financially difficult times. It was all too difficult and upsetting to recount, better left alone. No doubt a position many people have found themselves in throughout history.
I enjoy sharing my family story with anyone who has an association with Istanbul and Turkey. I will always retain a great regard for that country.

submission date 2015