I am a Lochner from Smyrna and my paternal great grandmother Sylvia Bertia after her divorce from Ernst Lochner, married Mr. Ernest Abbott, mentioned elsewhere on this site. I heard a lot about him and it's too bad I did not find this web site while her granddaughter (my aunt Helene) was still alive. It was fascinating to read the will and even more interesting to note that this material is to be found in a museum in Izmir -
view archives
. I currently divide my time between Georgia USA but go to Izmir.
There seems to be some confusion as to the Lochner family and a very similarly named family, de Lochner. I don't believe de Lochners and Lochners are related.
There is some information on de Lochners, mentioned in an Aliotti group photo on this site - view.
Here is what I know of the Izmir Lochners but I will not swear to its accuracy.
I know of a Ludwig Lochner arriving from Frankfurt, Germany and next to his name the date 21 March 1798. Unfortunately it could be his birthday or the date of his death. I'm told he was a banker. His son Conrad married Amelie Couturier and one of their children was Ernest F. Lochner who married Sylvia Berti. I remember as a child hearing that one of the Lochners had had 21 children, so this might explain the abundance of Lochners in Izmir. We looked into all this when my brother's son was given an assignment at school to trace the family history and on Genealogy.com found a person in Canada who was looking for her ancestry thus (posted Nov, 2001):
My grandmother was Amelia Lochner who was born on July 14, 1850 (possibly in Smyrna, Turkey, which is now Izmir) and died on September 5, 1932 in Paris, France.
She was married to William Wilkinson - I don't know where or when. They had four children, one of whom was my father, William John Wilkinson - now deceased.
Does anyone have any information on the Lochner family in Paris/Turkey during this period? It is possible that her father's name was Conrad. With all my family gone I am at a loss.
Unfortunately there was no response to my reply. But you can see where she very possibly is a daughter of Conrad since Conrad's wife was Amelie, that would have made her a sister to Ernst.
Sylvia and Ernst had two children, my grandfather Amedee and a girl whose name may be lost forever now that Aunt Helene (Ninon) is dead, but I don't think it was Helene. She did indeed die either in Austria or Germany so that is accurate [
musical training there?
]. I don't think she had children. One fine day Ernst left for America never to return.
Amedee married Frida Missir, daughter of François Missir and Helene Corsi. They had three children: Norbert who died at 21 of TB, Helene Sylvia (known as Ninon all her life) and Eric Franz. Ninon married late in life to Attilio Zanardi Landi, and was childless. For a very long time she was courted by an older man, very well to-do, in the Aliotti family but she only referred to him as Bubi, so I don't know who he was except I think he eventually moved to Italy.
Eric married Ada Sapunzoglu (daughter of Wanda Toscani and John Sapunzoglu) and had two children: Axel who is mentioned in one Alex Baltazzi's articles in this site -
click here
- (married Lorraine Icard) and myself. They subsequently divorced and Eric married Ingeborg Bremen of Hamburg and they had a daughter, Karin, who is now married to Martin Steinbuchel and lives in Izmir.
There remain few Lochners in Izmir of the old generation, one is Henri Lochner's son Eric who divides his time between Turkey and Germany. He is the most extraordinarily youthul man in his late 80s I have ever seen. As a child I remember Reggie Lochner and also there was Ronny Lochner, son of Eveline and Renee Lochner of Bornova. I remain in touch with Ronny's daughter Evy who lives in Vermont. I have a few pictures, one in particular of Sylvia and her son Amedee when he was a young boy.
There were also two Lochner sisters, Mireille and Viviane (now one after the death of Mireille recently). Mireille married a Penetti and Viviane is married as well but I can't remember her married name. I once asked them for their ancestors and I've got the following scribbled down: Gustave Lochner had two children, Louis and Raymonde. According to my scribble Louis married Adeline Missir and had two girls and Raymonde married Rudy Nezaudal (sp.) and had a daughter Edith in Vienna.
| | | |
| --- | --- | --- |
| Silvia Berti Lochner Abbott with her son Norbert Amedee Lochner. | Amedee Lochner en famille: the two older children in the back are Norbert and Helene Silvia and the child in front is Eric Franz, my father. Amedee married Frieda Missir, seen on the left. | Helene Silvia 'Ninon' and Eric Lochner. Picture taken on the day of Axel's wedding to Lorraine Icard. |
The
Lochner house
in Karşıyaka was built by my grandfather, Amedee. My aunt Ninon grew up there. She lived to be 95 and died two years ago (2006). Ninon remembered Ernest Abbott and Silvia and always told me they were huge spending bon vivants. The house was for sale after the restoration so I called the number and asked if it would be OK for me to bring my aunt to see it in its restored state and of course they were delighted, but she turned it down saying they would probably call the press and she didn't want to be in the papers!
| | |
| --- | --- |
| Amedee Lochner later in life. | Silvia Berti Lochner Abbott. |
From information I could receive from readers out there I would love to be able to trace all 21 Lochner children, if that were possible.

Then in May 2009 an e-mail from another Lochner descendants in Bosnia (German nationals living in that country because of work), Gunther and his wife Regina Lochner helped clear up a lot of mysteries about this family:

The saying goes that Conrad Ludwig was the son of a Frankfurt merchant and that there he got himself into some trouble which made his father send him on a business trip around the world. Apparently, he only got as far as Smyrna, where he met M. Therese Amalia Couturier and married her. As she wouldn't live anywhere but in Smyrna, he settled down there and must have established a business. My husband's grandfather Christian Franz was an agent for American Tobacco in the time before the 2nd World War and had a nice house also in Karşıyaka, but of course everything was gone when they had to leave Turkey. Christian Franz had an astonishing talent to have the wrong nationality at the wrong time: his father Ludwig Friedrich and his father's brother Carl Gustav both asked to be released from Frankfurt citizenship (which would have made them Germans after 1871) in 1867 and both became French. That must have provided at least for an uneasy position during the First World War. Ludwig's son Christian Franz, together with his wife Elisabeth (Elsa) and both sons, became a German citizen again in 1925, which was the reason for their having to leave Turkey in 1944. Most other Germans living in Turkey were interned then, with Turkey ending its neutrality - but that leads to other stories...

We are lucky that family papers survived the extradition of Christian Lochner's family in 1944 and the countless household moves Gunter and I have gone through since. But without the internet one would never be able to connect even a few loose ends, as I experienced when I tried to do this in the early 90ies without anything more than the documents we had - inquieries to archives etc. were all inconclusive then.

Reginald Lochner (born 1912, sadly demised in 1962) was the son of Christian M. Franz Lochner and his wife Elsa Ruegg, of Swiss origin. Reggie had one brother, Siegfried, born in 1917. My husband somehow lost trace of him.

Christian Franz was the son of Ludwig Friedrich Lochner and his wife Maria Aliotti. Ludwig Friedrich himself was the son of Conrad Ludwig Lochner (born 1797, died 1869), married to Maria Theresia Amalia Couturier (died 1891). This couple had astonishing 14 children, but only 10 of them survived early childhood. Their names etc. are as follows:

1. M. Sophie born July 7, 1828
2. Henriette Louise born August 19, 1830
3. Hilarion Adolphe born May 12, 1832, died July 29, 1832
4. Thérèse Louise born April 30, 1834, died July 4, 1834
5. Louis Gustav, born November 20, 1835, dies January 18, 1840
6. Hermann Alexander, born May 13, 1838
7. M. Louise born August 12, 1841
8. Ernst Franz born December 3, 1844
9. Ludwig Friedrich born December 13, 1845 (as mentioned above, my husband's great grandfather)
10. M. Sidonie born April 3, 1845
11. and 12. twins M. Mathilde & M. Eugénie, born March 7, 1849. M. Eugénie died July 12, 1850
13. M. Rose born July 14, 1850
14. Carl Gustav born April 17, 1855
(As devout Catholic parents they named every female child after the Blessed Virgin Mary, but abbreviated this to an 'M' afterwards.)

Conrad Ludwig Lochner was the one who came to Smyrna in 1827, we still keep his passport and visa - they're both a showpiece...I have ample documentation about all the data, as Reginald had to supply this in order to get a German passport in the 30ies - the times being as they were. The father of Conrad Ludwig Lochner was Johann Tobias Lochner, of Frankfurt. - to view a more complete Levant branch of the Lochner family prepared by distant cousins, click here:

One of my memories of my childhood was when my brother picked up the loaded rifle of my uncle Henri Lochner lying in the corner of the room, fired it at me and fortunately missed! Henri's sister was a Mlle. Marie Lochner who I recall as an old lady who lived in Karşıyaka and for some reason a bunch of postcards sent by her have recently surfaced in auction sites and she gives her address as that of Pierre Aliotti, possibly her suitor?

Note: Ms Hess reflects on a somewhat forgotten book set in old Izmir: 'When I was at the American College Izmir (probably around 1956) one of the American teachers asked the class whether anyone knew of a book called 'It Happened in Smyrna', as she was anxious to read it. For some reason I thought to ask my grandmother, Wanda Toscani Sapounzoglu.
She made a phone call and a few days later we were headed for the home of Agnes Guiffray. Oh my God, the place was overtaken by dogs everywhere and the smell was unbearable. We had tea with this to me ancient lady and she produced the book.
It turns out Agnes was the heroine, that this Thomas Edgelow, the author (published 1912), had been in love with her but the feeling had not been returned, hence the book. The names were changed of course. I remember he said something to the effect that it was better to let your child play with a snake than with a Levantine!'.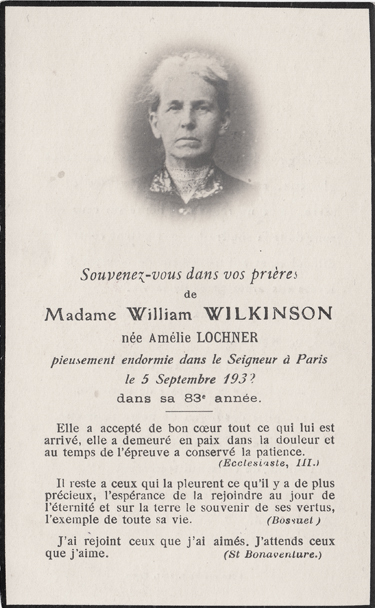 The death notice of my grandaunt, Amelia Lochner who married William Wilkinson (1847 Chios - 1896 Smyrna).

submission date 2008-11