Married to Michael Barker in 1974 and widowed since 1999, Mrs Barker still takes a keen interest on the Barker family heritage. She was disappointed to see a slight error in his newspaper obituary, who named Michael Barker as the chairman of the Alexandria schools trust, when in fact he was the president. Victoria College, sometimes called the 'Eton of the Middle East', the English Girls' College and the English Boys' School in Alexandria were all founded by the British community; after 1956 they became Egyptian state schools though still officially classed as 'English Medium', however post 1956, the high standard was somewhat lost. When after 20 years of dragging its feet, the British foreign office finally paid a greatly reduced compensation to families who had like the Barkers lost all, these families decided the money be better spent to continue financing the Alexandria school trust. To this day, the funds are carefully managed and aim to send language teachers from England, to allow students to have a good grounding for life.

With late husband Mrs Barker has visited Egypt but the only remaining former Barker residence (Rue Fenderl, the other standing at the time of the Suez Crisis was demolished sometime ago) was off-bounds to visitors, with bayoneted troops in sentry boxes, guarding the former mansion. It is sad to reflect that the former house of Michael was used to house political prisoners and as a repository of government archives.

The Barkers for generations had been born in Egypt and very much had Egypt in their soul, which was not diminished by Mr Barker's banishment from the country. The tradition of the family was to give each first son the same name, thus they were all Henrys, so to avoid confusion they used their second name.

Henry 'Michael's' (1923 - 1999, married 1) Shelagh 1924 - 1967, 2) Kay 1933 - , 3) Marianne 1931 - ) father, was Henry 'Alwyn' Barker (1898 - 1966, married 1) Sybil 1895 - 1947 2) Haydee 1904 - 1996), whose father was Sir Henry 'Harry' Barker , whose father was Sir Henry 'Edward' Barker (1872 - 1942, wife Lena (Emmeline) 1873 - 1953) who moved the family from Smyrna to Alexandria mid 19th century. Like his ancestors Michael Barker was involved in a whole range of social and business activities of Egypt. His grandfather was the first chairman of the board of governors of Victoria college and president of the chamber of commerce in Egypt. Apart from the shipping concern, the Barkers were involved with insurance, banking, cotton trade, installation of a water network for the city, and virtually all the interior of the still standing Anglican church at St Mark's square in Alexandria, such as the pulpit etc, were provided by this family. However it is sad to note that the civilian foreign cemetery in the city has suffered much vandalism, in conspicuous contrast with the British military cemetery across the road from it.

When the 1956 revolution did come, the Egyptian authorities placed the British nationals first under house arrest, and then allowed them only minor funds each, just sufficient for a one way first class boat ticket to Venice, where the family had a relation to greet them. The women were able to spirit out some wealth in the jewellery they carried. The Egyptian government allowed for a certain number of boxes of goods to be taken out of the country, and Mr Barker was fortunate to have the made the acquaintance from a dinner party, of a Russian diplomat whose official baggage allowed the export of much of the Barker house contents such as furniture, in giant containers classed as boxes, yet without that diplomat's knowledge! The Barkers had a whole range of International visitors in their days in Egypt, ranging from assorted Romanovs to King Zog of Albania who lived next door.

The family records are kept in various files, one of which details the report of the Historic manuscripts commission (1958), where William Barker, the youngest son Thomas Barker (1709-1754) of Bakewell, Derbyshire, emigrated to Florida where he purchased an estate, but in 1760 he left and settled in Smyrna where he remained until his death in 1825. He married first in 1763, Flora Robin (1739-1775) and secondly in 1776, Maria Elizabeth Schnell of Smyrna (b.1760) and had 25 children. One of his sons, John (1771-1849), was consul-general in Egypt from 1829-1833 and a well known horticulturist. The report details many letters and other personal papers of the Barkers through the generations. It appears that the Florida estate was bought in good faith but was not to be, so he then proceeded to India via London but was compelled owing to ill health to break his journey in Smyrna. It was from this accident that the Barker family were established in various parts of the Levant for nearly 2 centuries.

Mrs Barker has in her possession 5 first set reproductions of the famous orientalist artist David Roberts. One of these shows 'uncle' John Barker with the local Khedive with the harbour of Alexandria in the background, dated May 12, 1839. The title of this piece is 'Interview with the viceroy of Egypt, at his palace at Alexandria', published by F.G. Moon of London.

Notes: 1-From the Internet we are informed that David Roberts (1796-1864) reached Alexandria in September 1838. With the help of the British consul at Alexandria, Roberts hired a boat, its eight-man crew, a reis [captain], and a servant. He went to Cairo and spent a day or two there, seeing the pyramids and the Sphinx, then went on to his river journey. Like most of the artists making the same trip, he did most of his drawing on the way downriver. The material collected by Roberts over his travels was to serve him for many more years. The main short-term result was the six volumes of lithographs for which he is best known. The volumes were described as "the most ambitious work ever published in England with lithographed plates." They were issued to subscribers in monthly instalments over a number of years.
2- The Brittanica details 'Khedive' as the title granted by the Ottoman sultan Abdülaziz to the hereditary pasha of Egypt, Ismail, in 1867 and used by his successors Tawfiq and Abbas Hilmi II. It was replaced by the title sultan in 1914, when Egypt became a British protectorate. Real control from the Ottomans was lost following the departure of the French during the Napoleonic wars, and the country was run by the Albanian Muhammed Ali. The British occupied the country in 1882 and received nominal independence in 1922, when a constitutional monarchy was established. A coup overthrew the monarchy in 1952, and General Abdel Nasser emerged as the ruler who went on to nationalise the Suez canal, leading to the crisis at the end of which Britain had to withdraw humiliated.
3- It was Mohamed Ali Pasha (governor of Egypt 1805-49) who is featured in the David Roberts lithograph, as detailed in the information sheet on the reverse, which also states that the agenda for this meeting was Waghorn's overland mail route probably with specific reference to the 'convention for the conveyance of India mail through France'.

This colour lithograph is not the only depiction of Mr John Barker, as in the family possession is a pen and ink portrait of a fierce looking great-grandfather in uniform and one done in oil with no less than seven medals pinned, some no doubt given by the khedive. Other family portraits in oil include Michael's grandfather Sir Henry 'Harry' and one showing the paternal grandmother, and one showing Michael himself, commissioned by Mrs Barker in 1976, however artists are unknown. Also in Mrs Barker's collection are 2 of William Ashton who was also a traveller to Egypt, but his work was in pen and ink. Clearly an accomplished artist, I have at present found no references to him, but my investigations are continuing.

Note: Subsequently (2005) I learnt that William Ashton was not a traveller but a resident of Egypt for at least part of his life (1930s to early 40s?), as Marion Ashe, wife of fellow contibutor Rev. Patrick Ashe, lived in Port Said Egypt as a child, daughter of the Anglican chaplain of that town, and her parents were friendly both with the painter and his wife Frances. As a wedding present for Marion (first marriage, 1940), Ashton gave her one of his works, "Gateway to the East", a line drawing of the harbour of Port Said, depicting in the background the statue of French engineer Ferdinand de Lesseps, builder of the Suez Canal, that was pulled down by the nationalistic authorities following their 1956 revolution.

After retirement in his last years Michael Barker was able to sift family documents to produce the family story, however these detailed and organised files have never been transferred to a readable book format. Mrs Barker feels a duty to have these published one day, as homage to her late husband, and is seeking a professional author. What follows is a condensed passage - segment -, concentrating on the work of generations who lived within the Ottoman Empire.

The thirteenth son of William Barker, the original settler in Smyrna, was Benjamin Barker (1797-1859) was in Alexandria during the summer and autumn of 1822, having escaped by a miracle from the earthquake at Aleppo during which he computed 25,000 lives to have been lost. From 1828 to 1834 he was employed in a subordinate capacity at the consulate general in Egypt, and later held various posts in the Turkish Empire. During the Crimean war he acted as staff interpreter.

John Barker (1771-1849) was the original Barker to establish himself in Egypt, being appointed British consul in succession to Peter Lee in 1826, was born in Smyrna in 1771, and his family were already well known in Egypt, which had been visited by several of his brothers and with whose commerce they were already concerned prior to his arrival in an official capacity. In 1799 John Barker was commissioned as pro-consul and agent at Aleppo for the Levant and East India company. Thereafter for the next 33 years he was connected with the East India Company. While at Aleppo, he married in 1800 a Miss Hays of that place, who could already speak 5 languages, by the age of six. By her he had a numerous and not undistinguished family. In 1803 he became full consul for the Levant company, and in the same year he introduced the practice of vaccination into Asia Minor. In 1826 he accepted the post of consul at Alexandria under consul general there, Henry Salt. On the death of Henry Salt, Barker became acting consul-general in 1827, and was given the substantive rank of consul-general of Egypt. He was president of the European hospital in 1827, towards its support of all ships entering the harbour. In 1828 about 800 ships annually entered the harbour of Alexandria, of which an average of 210 was British or Ionian. After the battle of Navarino (20-Oct-1827) John was in charge of freeing of the Greek slaves of Egypt.

Edward Barker (1784-1844) the sixth child of William Barker was consular agent in Cairo for the United Kingdom between Sept 1830 – Jan 1831, and thereafter vice-consul until March 1834. It shows the prominence of Italian, at that period, as the language of commerce in the Levant that the letters exchanged between vice-consul Barker in Cairo and vice-consul Sloane in Alexandria, both of them of British descent and background, were exchanged in that language. During Edward Barker's period in Cairo the number of British subjects under his care increased from 200 in 1828 to over 1000 in 1830: well over 90% of these latter figures were either Maltese or Ionians. In 1831 Edward Barker fled temporarily from Cairo to Rosetta, where his brother John, the consul-general had a house, in order to escape the ravages of cholera. He was later in life, the British consul at Damascus, and was created a Knight of the Greek order of the Saviour.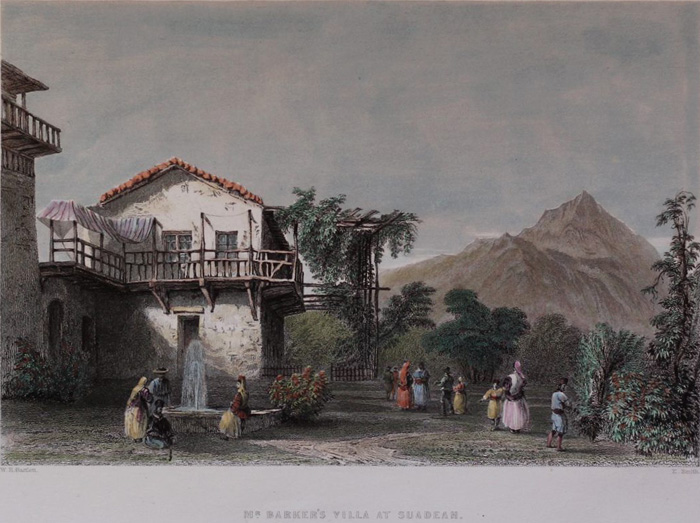 Edward B. Barker (junior) wrote an account of his father consul-general John Barker's life. For three years, 1831-4, he acted as clerk in his father's office in Alexandria. In 1836 he was appointed vice-consul at Suedia in Syria, and was subsequently consul in various parts of the Turkish Empire.

Frederick Peter George Barker (1825-1899), second son of the above named Edward, arrived in Alexandria to found the firm of Barker & Co., shipping agents in 1845. He was joined shortly afterwards by his brother, Henry Barker (1829-1907) from whom the Alexandria family is descended.

Notes: 1- Mrs Barker has recently (2003) donated a collection of the memoirs of Mr Michael Barker to the library of Exeter University for public access for future generations.
2- Click here to read the newspaper column of the obituary of Michael Barker who died in 1999.
3- Somewhat unrelated is an interesting on-line newspaper article on the Belgians of Egypt (Egyptian mail 1995), a nationality which was also prominent in some major infrastructure projects in Smyrna, such as the tramways.
4- According to the contributor Alex Baltazzi, Frederick Peter George Barker (1825-1899) is mentioned on page 68 of 'Matoula Tomara Sideri's Volume Alexandrine Families - Kerkira ed., Athens', that Ioanis (John) Choremi together with K. Zervoudaki, I. (John?) Negreponti, the English Frederic Barker and the italian Jacobo Lubroso founded in 1873 in Alexandria the The Khedive Insurance Company.




interview date 2003