View of Pera at around the turn of the century
The shot, a tinted postcard, shows a Western facade of buildings still very much in evidence today, despite the loss of the bulk of the Levantine community over the years.
The entrance to the Russian embassy on the right, with the studio of the famous photographers Sebah and Joallier's next to it and in the distance the old basilica of Sant' Antonio, demolished in 1913, juts out.
1920s.
The German Girl's School.
Building on the right is still the
Grand Hotel de Londres
hover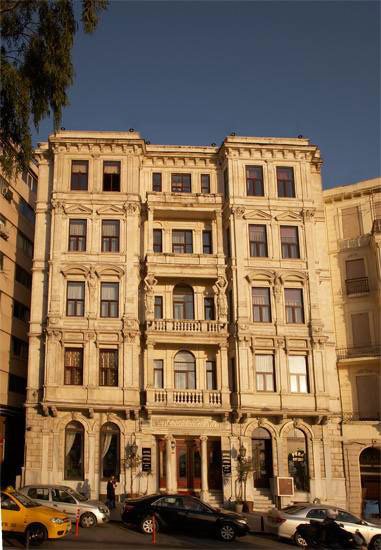 The Grand Novotny Hotel started as the German (?) owned Kroeger Hotel in the 'Petit Champs' quarter of Pera, not far from the present Pera Palace Hotel, so situated to be with a view of the Golden Horn and beyond. It was built by the Imperial architect Alexander Vallaury, in a neo-classical style, had 3 section and 4 floors all connected by interior monumental gates. At the rear of the central building there was a glass atrium, with wooden galleries, leading to the gardens by two monumental staircases. In 1920 the White Russian (but probably originally Slovak) Novotny family bought the edifice but it seems the happy days were over with the weakening world economy in the early 30s when at first the south and north wings were sold off and later the hotel closed for good in the late 1930s. Asmalimescit street runs diagonally across the street on which Novotny Hotel stood and the slight name change suggests it was run by another family as a separate concern, though its history is not known.
Gravure depiction of arrival at a masked ball in Pera, during the carnival season 1877.
The former cemetery of Pera (present day Tepebaşı)